In 1959, Olympus launched a PEN series of camera that revolutionized the way we take photo. It is built with the photographic optics of an SLR and the size and simplicity of a point-and-shoot. Now, after 50 years, the PEN is back. Olympus introduces new Olympus PEN, which is totally digital and features groundbreaking technology. It comes with extraordinary abilities to create even more than what was thought possible. The camera has superior optics, interchangeable lenses and multimedia capabilities. It combines the creative freedom of a sophisticated digital SLR with the simple controls and small size of a point-and- shoot.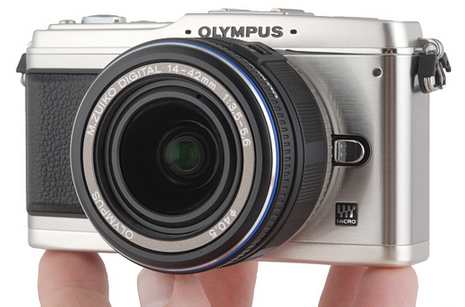 This new ultra-compact hybrid device can even record HD quality movies and add Art Filter effects. The E-P1 packs all the advantages of Olympus imaging technology, such as image stabilization, a dust reduction system, and bright interchangeable lenses.
It is now available for pre-order at Adorama, Amazon, B&H and J&R, priced at $749 (body only), $799 (with 14-42mm lens), and $899 (with 17mm pancake lens and viewfinder).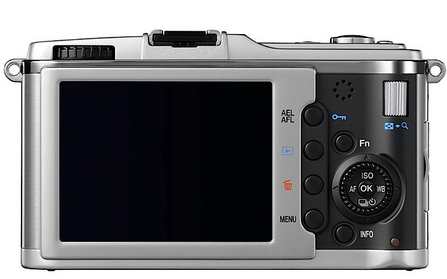 Summary of Features
Small & stylish design
Small and light-weight
Micro Four Thirds System
Stylish design with metal finish
Two colours
SLR image quality
12.3 Megapixel Live MOS Sensor
TruePic V image processor
Built-in IS with max. 4 EV steps efficiency
Adapter for all ZUIKO DIGITAL & OM lenses
Easy operation
New developed GUI via Live Control for easiest operation
Automatic scenes with i-Auto
Clear skin with e-Portrait
Two dials for easy handling
Face Detection and Shadow Adjustment Technology
20 shooting modes (5 exposure modes, i-Auto mode, 14 scene modes)
Creativity and HD Movie
HD Movie with stereo sound featuring depth of field and Art Filters
Art Filters, Multi-Aspect ratios
Multi Exposure function
Olympus software to apply Art Filters for Photo taken earlier.
Supprt special lenses e.g. fisheye is available via Four Thirds lens adapter
Additional features of the Olympus Pen:
HDMI TV interface
Linear PCM sound recording
Level gauge
Hi-Speed USB 2.0 interface
3 fps with sequential shooting (max 14 in RAW mode)
ISO 100-6400 wide-ranging sensitivity
Bracketing functions for white balance and exposure
Supersonic Wave Filter dust reduction system
Wide dynamic range in highly lit areas
Simultaneous writing of RAW and JPEG
SD memory card (SDHC compatible)
High-speed data writing and lossless RAW compression for quick processing
Large 7.6cm/3.0" HyperCrystal LCD
AE/AF lock functionality for individual customisation
Auto gradation adjustment to prevent blown highlights and blocked-in shadows
Remote release possible via the optional remote cable RM-UC1
Olympus Pen E-P1 comes in following configurations:
E-P1 Kit Silver/Black
(E-P1 body silver & M. ZUIKO DIGITAL ED 14-42mm 1:3.5-5.6 lens black)
E-P1 Kit Silver/Silver
(E-P1 body silver & M. ZUIKO DIGITAL ED 14-42mm 1:3.5-5.6 lens silver)
E-P1 Kit White/Silver
(E-P1 body white & M. ZUIKO DIGITAL ED 14-42mm 1:3.5-5.6 lens silver)
E-P1 Pancake Kit Silver
(E-P1 body silver & M. ZUIKO DIGITAL 17mm 1:2.8 Pancake lens silver & VF-1)
E-P1 Pancake Kit White
(E-P1 body white & M. ZUIKO DIGITAL 17mm 1:2.8 Pancake lens silver & VF-1)
E-P1 Double Lens Kit
(E-P1 body silver & M. ZUIKO DIGITAL ED 14-42mm 1:3.5-5.6 lens black & M. ZUIKO DIGITAL 17mm 1:2.8 Pancake lens silver & VF-1)
New accessories:
M. ZUIKO DIGITAL ED 14-42mm 1:3.5-5.6 lens
M. ZUIKO DIGITAL 17mm 1:2.8 Pancake lens
MMF-1 adapter for all Four Thirds lenses
MF-2 adapter for all OM lenses
FL-14 flash
VF-1 external optical view finder
Leather strap in white and brown
Leather body jacket in white and brown