Olympus Visual Communications announces the launch of 3D viewing kit for PCs that is designed for creators of 3D content. It will go on sale on February 23 in Japan.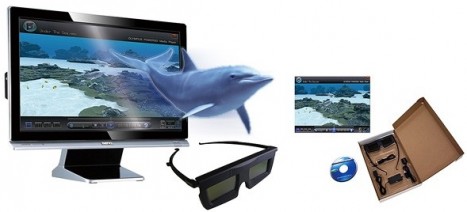 Until now, there isn't a way for content creators to check the 3D stereoscopic effect of their work on a PC monitor. With this new kit, they can now view the 3D content of work in progress immediately using computer graphics software easily at much lower cost. Previously, a specially configured 3D monitor is required for 3D stereoscopic playback. It will help to bring major improvements in 3D content production efficiency and the quality of finished work.
Main Feature
1. Convenient functions allow frequent checking of 3D stereoscopic effects and parallax error correction during 3D content development. 
2. The shutter glasses timing optimization allows 3D stereoscopic viewing on a standard LCD monitor, dramatically reducing 3D implementation costs. 
3. With a refresh rate over 75Hz and a GTG response time of 2ms, the BenQ monitor is the ideal combination for minimizing flicker and ghost-image. 
4. Convenient features for content creators, including played file reference function, and support for avi format 
5. Player software supports multiple 3D displays, including 3D head-mounted displays, polarized monitors and 3D ready DPL projectors 
The 3D Viewer Kit will be sold in a bundle of a BenQ E2400HD LCD monitor, a 3D media player software, 3D shutter glasses and a controller box. Buyers will be able to place orders by fax or via the Olio Store, an on-line shop operated by Olympus Visual Communications. The price tag for this kit is ¥42,000 which is around 355€ ($457).