Olympus has announced a new generation of its rugged compact camera series. Known as Mju Tough-6010 (also known as Stylus TOUGH-6010 in the US). The camera claimed to be waterproof up to 3 meters, freezeproof up to -10 degrees and shockproof up to 1.5 meters. The rugged camera has been featured with a 12-megapixel sensor with 3.6X zoom. The Dual Image Stabilization and Magic filters features have been integrated for avoids blur and spice up the picture.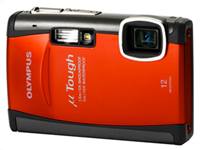 Highlight the key features of Mju Olympus Tough 6010 Camera:
Shooting when it's getting tough, wet and cold – up to 1.5m shockproof, up to 3m waterproof and up to -10°C freezeproof.
High-precision 3.6x wide optical zoom (28-102mm) to capture great scenes through to stunning close-ups even in extreme conditions.
Avoids blur with Dual Image Stabilisation (combines mechanical and digital image stabilisation).
TAP Control Menu for great convenience.
12-megapixel sensor to make poster-size prints.
6.9cm/2.7" HyperCrystal III LCD for best ever preview even in brilliant sunlight and at extreme angles (230,000 dots).
Advanced Face Detection of up to 16 persons for perfectly focused and exposed faces. In combination with Shadow Adjustment Technology other main parts of the picture are also correctly exposed.
The easy way to perfect images – Intelligent Auto Mode (i-Auto) detects the five most commonly used scenes and adjusts settings, focus and exposure automatically.
Spice up your pictures with built-in Magic Filters.
Liven up your memories with movie recording with sound (up to VGA resolution at 30fps).
xD-Picture Card and microSD Card compatible.
Available in titanium grey, turquoise blue and lava red, the price of Olympus Mju Tough 6010 is not yet announced and is exepected to be available in consumer market soon.