Olympus has announced its new incredible third-generation PEN camera, named as Olympus PEN E-PL1, which combines versatility, performance of D-SLR cameras and HD camcorders in a single compact easy-to-use device, featuring 12.3MP Live MOS sensor, interchangeable lenses, in-camera creativity and HD video recording capability.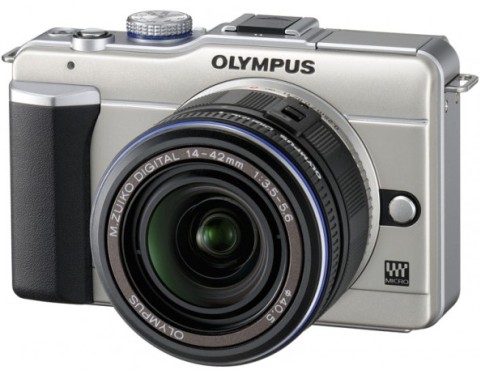 "Many of today's consumers want a camera with the professional still image quality of a DSLR and HD video in a compact body that's as easy to use as a point-and-shoot," commented John Knaur, senior marketing manager for Digital SLR at Olympus Imaging America Inc. "Thanks in part to an image sensor that's approximately eight times larger in size than what's inside the average point-and-shoot camera, the E-PL1 delivers outstanding high-quality images. Add the flexibility of high-quality interchangeable lenses, the convenience of a built-in pop-up flash, in-camera creative features and technology designed to produce images effortlessly, and the E-PL1 is the total consumer-friendly, multimedia package."
Features and Specifications of Olympus PEN E-PL1:
High-performance 12.3 megapixel Live MOS image sensor combined with Olympus' TruePic V Image Processor to produce sharp and colorful photos
2.7-inch full-color, high-contrast HyperCrystal LCD display with a wide viewing angle of 176 degrees
Continuous Autofocus (C-AF) Tracking and Autofocus (AF) Target Registration lock your subject into focus and constantly adjust focus and brightness whether they roam
Imager Autofocus in Live View allows users to compose, focus and capture the shot quickly and easily
New Direct Button makes recording HD movies easier than ever
New Live Guide functionality simplifies great photography by setting the scene before you shoot
19 Scene-Select modes – from portraits to sunset shots
Intelligent Auto (iAuto) mode automatically identifies the situation and adjusts settings for best possible results
Face Detection recognizes up to 8 faces and automatically focus and optimize exposure for sharp portraits
In-Camera Panorama lets users capture 3 images and stitch them together for 1 amazing, seamless panoramic photo
Warm yellow and orange colors of a sunset are heightened to a dramatically lifelike color thanks to iEnhance
Powerful built-in pop-up flash for illuminating low-light subjects, reducing red-eye and filling in dark areas
Proven Olympus Dust Reduction System produces spot-free photos with Supersonic Wave Filter
6 in-camera Art Filters including Pop Art, Soft Focus, Pin Hole, Grainy Film, Diorama and new Gentle Sepia
Accept a variety of lenses to maximize E-PL1's functionality – from wide-angle fisheye lens to super-telephoto lens
Optional MMF-2 Four Thirds System Lens Adapter makes the camera compatible with all Olympus ZUIKO Digital Specific lenses and other-brands Four Thirds System lenses
Available in 3 variants of color – Black, Champagne Gold and Slate Blue
Olympus PEN E-PL1 Micro Four Thirds camera which measures 4.51 (W) x 2.84 (H) x 1.63 (D) inches and weights just 10.4 ounces is slated to be available in coming March 2010 for an estimated street price of $599.99 (Olympus E-PL1 body with M. ZUIKO DIGITAL ED 14-42mm f3.5/5.6 zoom lens).