The manufacturer for Omnivision QV5650 that is full HD 1080p for mobile devices such as iPhone 4, is now seemed to have developed a new camera sensor with more advanced specification targeted for next generation smartphones. Named as OV8830, it is a 8-megapixel capable camera sensor which claimed to be the first that utilizes its new proprietary BSI (backside illumination) technology.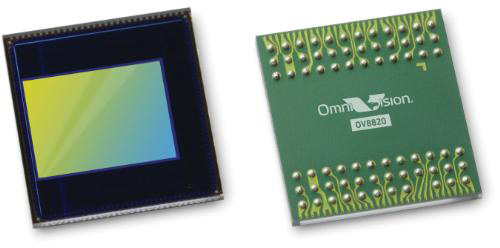 With such new technology, OV8830 is expected to be able to boost the whole performance with 3264×2448 pixel resolution at 24 FPS (frame per second) or 3264×1836 at 30 FPS. While this doesn't seems to be practical on a tiny mobile smartphone device, but this is definitely more than sufficient to capture a continuous video frame at full 1080p HD with up to 60 FPS. On top of these, its BSI technology has able to boost a significant 35 percent better sensitivity in low light environment with improved color and noise ratio.
Even though there isn't any confirmation if this will be designed into next generation iPhone 5, but the chance is quite high in view of its previous successful iPhone 4 deal with the Cupertino company with its official mass production targeted around second half of this year.