Previously we mentioned about Kohjinsha DZ dual screen netbook released by Japanese PC maker and in case you think the specifications doesn't fit your requirements, here come a new refreshed version unveiled by Onkyo with the name of DX1007A5 targeted for mainstream applications with higher end specifications.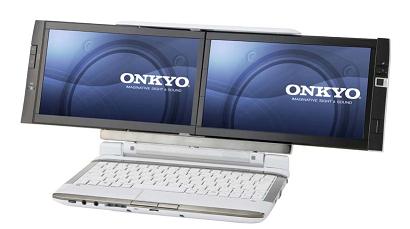 As similar to Kohjinsha version, the machine is powered by AMD Athlon Neo MV-40 processor running at 1.6GHz. Further coupled with RS780MN and ATI Radeon HD3200 graphics solutions, it offers an excellent hardware video decode capability suitable for multimedia centric applications. In terms of differences, the newer model has been enhanced with much higher resolution 10.1-inch LCD panels with ability to scale up to 1366 x 768 resolutions versus Kohjinsha that tops at 1024 x 600 only. Besides, its memory RAM and hard disk size has been doubled from previously 1GB and 160GB (for Kohjinsha model) to 2GB RAM and 320GB respectively, aiming for whole system performance boost as well as key differentiators as a late comer to penetrate well into market. Only one drawback, the Japanese manufacturer actually takes off 1-Seg digital TV tuner module so that there is no way to receive digital TV programs on the air. Other specifications such as USB 2.0 host ports, Bluetooth 2.1+EDR, 802.11n wireless technologies and built-in web camera and etc are remained unchanged.
Priced at $950, it is slightly higher than Kohjinsha version but if you don't really need the digital TV capability, it could be a value buy especially when the machine will be preloaded with Windows 7 Home Premium Operating System besides bundled with great feature sets.