Although there are various high tech facilities and equipment, the conventional whiteboard or markerboard is still a very popular platform or solution for brainstorming and discussion. The white surface offers people a free-hand medium to freely drop their ideas and map these ideas together. If the whiteboard is an essential tool for you for brainstorming or discussion, it is probably time to consider upgrading your conventional whiteboard to the web-based whiteboard. Dabbleboard is a great web-based or virtual whiteboard solution that you can opt for.

Functioning like an actual whiteboard, Dableboard allows you to do everything you can do on a whiteboard. You can do free-hand drawing, write texts, do coloring, etc on it. But of course Dabbleboard does more than that. The smart application offers you a more efficient and flexible way to do sketching. It understands well the basic shapes of your object and it can automatically smoothen the lines and shapes with a single click. There are many editing tools such as copy, resize, delete, undo, redo, insert photo, etc to speed up your sketching. Another good feature of Dabbleboard is it allows users to save their sketches into their personal library located on the left sidebar for future reference. Users could easily reuse these saved drawings as and when they need it. They could also borrow liberally photos and drawings created by other users from a public library.
Dabbleboard does not limit your work place within a meeting room or a board room. You can use this borderless tool to collaborate and work together with your team members who might be a thousand miles away on a particular project in real time. Every team member can freely drop something on this virtual whiteboard. However, for co-ordination purpose, the application only allows one person to make changes at any single time. The system will alert team members when the other person is using it. To further enhance the collaboration measure, Dabbleboard also offers a real time chat service to users. Users can discuss via the chat room and make changes to the discussion topics on Dabbleboard online.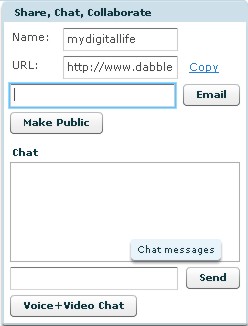 Dabbleboard Chat Room
Dabbleboard users can share their masterpiece through the system. They can share their work publicly through the central library or privately in a secure collaborative environment. They can also embed the URL of their hard work on their blog or website. If somebody makes changes in the Dabbleboard copy of the drawing, it gets updated in the embedded shared copy too.
DabbleBoard is currently in its Beta and it is free. Users only need to sign in before they start using it. Besides functioning as a standalone web-based application, Dabbleboard also offers developer API which can be integrated with other websites/blogs/services.