O&O DiskStat 2, from O&O Software, is a high-performance tool which designed to help users analyze the used disk space on their storage volumes, featuring an user-friendly interface based on the design of Windows Explorer.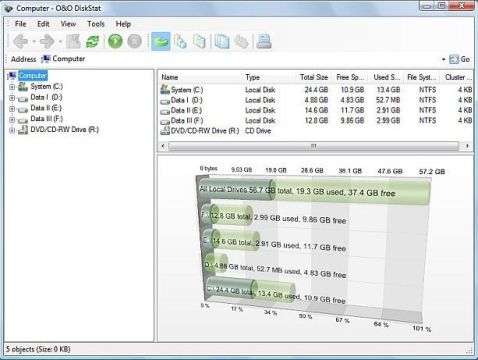 Main Features of O&O DiskStat 2 Professional Edition:
Improved, intuitive graphical representations in the user interface
Quick analysis of the file and folder structure
Supports all internal and external drives
Intuitive and appealing representation of file and folder structure
Windows Explorer look & feel
Easily search files that occupy the most disk space
O&O DiskStat 2 Professional Edition normally costs for $29.95 per single computer license. As part of O&O Software promotion, interested users now can download the O&O DiskStat 2 Pro for free (limited time only)!
To grab a free copy of O&O DiskStat 2 Pro full version, follow these steps:
Visit promotion page at http://www.oo-software.com/home/en/special/freeoodiskstat2/index.html?id=h0298e.

Fill out the registration form and press Submit Form button.
Shortly, an email with a free license serial key for O&O DiskStat 2 Professional Edition will hit your registered e-mail address.
Note that the download links inside the email is incorrect, though the official installer for O&O DiskStat Pro 2 can be downloaded from http://www.oo-software.com/home/en/download/current/oodiskstatpro/registered.html, or by using the direct download links below:

32-bit (x86): OODiskStat2ProfessionalEnu.exe
64-bit (x64): OODiskStat2ProfessionalEnu.exe

Input your received free license code to convert O&O DiskStat 2.0.396 Professional Edition from trial to full version.
O&O DiskStat 2 Pro is compatible with both 32-bit and 64-bit of Windows Vista, XP, 2000 Pro and Windows 7 OS.