Looking for an application to check the right time for your computer to take a break? O&O DriveLED 4 Professional is a powerful and simple-to-use HDD monitoring, analyzing as well as warning application, which is designed to warn you about an impending disk failure, problem or possibility of malfunction by monitoring the status of hard disk drives, thanks to the S.M.A.R.T. (Self-Monitoring, Analysis and Reporting Technology). With O&O DriveLED 4 Pro, you can avoid the annoying data loss and work downtime caused of sudden disk crash.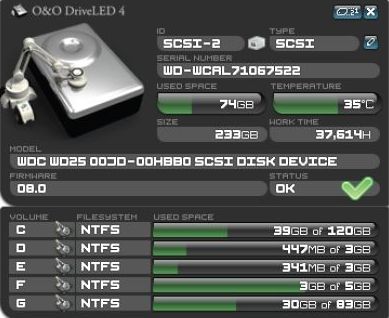 Key features of O&O DriveLED 4 Professional:
Display current temperature of each drive and recommend the maximum temperature (while supported by manufacturer)
Display read/write access for logical volumes
Display storage capacity for every logical drive
Status reports of summarized HDD info
New redesigned user interface
O&O DriveLED 4 Professional usually priced at $29.95 per single license. As part of O&O Software GmbH / Computer Bild promotion offer, the interested Windows users are now entitled to download the full version of the DriveLED 4 Professional for free of charge.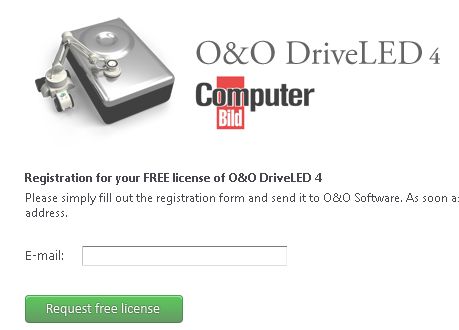 To grab a free copy of O&O DriveLED 4 Professional, visit the O&O promotion page to submit your email address for obtaining a free license serial key and download URL of the DriveLED 4 Pro.
Alternately, you can directly download the setup installers (32 bit or 64 bit) at below.
O&O DriveLED 4 Professional Edition (32-bit): OODriveLED4ProfessionalEnu.exe
O&O DriveLED 4 Professional Edition (64-bit): OODriveLED4Professional64Enu.exe
O&O DriveLED 4 Pro is fully compatible with Microsoft Windows 7, Vista and Windows XP operating systems.
Note: O&O DriveLED 4 Server and Workstation editions are available for network computer monitoring.