Online video chatting is not something new amongst net users. With a computer, a high-speed broadband connection and a web camera, you can easily get connected to friends all over the world. You can chat and gossip with friends from the other end of the earth easily via this service. If you are one of those video chatting enthusiasts or if you need video calls for work purposes, probably you could look at this relatively new chat program called ooVoo.

Unlike many live video chat apps which only allow you to do one-to-one live video chatting, the ooVoo video chat and video conferring program can support up to a maximum of 6 video calls at once (maximum up to 3 persons for standard free package and 6 persons for pay package). In other words, you can see up to six friends, colleagues, family members, etc at the same with video quality that's like being face-to-face in the same room. This multi-users capability makes the video chatting activity more fun and interesting. Users would probably raise their concern about the video quality when they are running 6 video calls concurrently. From the test we have done and users' feedback, the video quality apparently looks impressive and the video streaming was relatively smooth.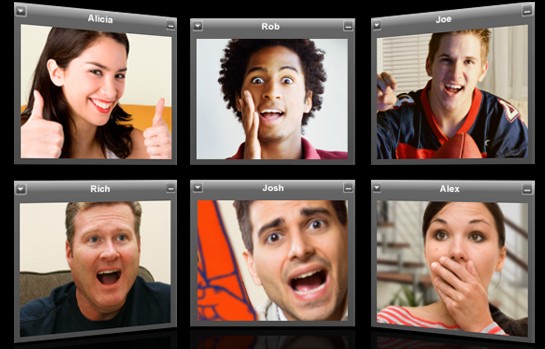 Besides the multi-users video chatting feature, users can make use of ooVoo to create a video message and send it to others. Users can also create a video chat room via ooVoo. The chat room can be easily embedded into your blog or website. In the pay packages, ooVoo users can also use the service to make phone calls to mobile or landline phones. A summary of the features is as follows:
Video Call See, hear and speak with up to 6 people
Web Video Call Friends who don't have ooVoo can video call you from their Web browser.
Video Chat Room A simple way to embed a video chat in any website, blog or social network.
High Resolution Video Make video calls in amazing clarity.
Video Call Recording Create and share instant memories.
Video Messages Send a video greeting to multiple people at once.
Video Effects Get creative! Customize your video calls and messages.
Phone Calls Call a mobile or landline.
Text Chat Text with up to 6 friends at once.
Send Large Files Big attachment? Send files up to 25 MB each.
Sidebar View Change the size of a video call window.
Search for Friends Find people you know or find new friends on ooVoo.
Call Me Button Bring your blog or MySpace page to life with an ooVoo link.
Set Privacy Controls Control who can see or contact you.
Internet services such as ooVoo yield better global connectivity and a more competitive and efficient global marketplace. It helps to improve human's communication and networking. As the name suggest, ooVoo is something to be excited about.