The leading company in outdoor cinema equipment, Open Air Cinema has announced the launch of its new giant inflatable movie screen – 16ft x 9ft Open Air Home Screen, which able to transform virtually any venue into a big outdoor theater, aiming to deliver a new level of cinematic viewing experience.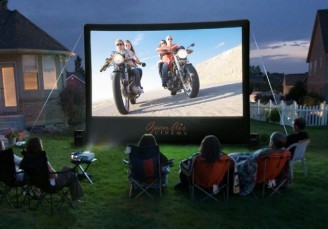 "The 16-foot screen is the largest screen available for backyard use on the market," said Stuart Farmer, president of Open Air Cinema. "This new size truly converts your backyard into a huge cinematic experience. With the included blower fan, it takes just a few seconds to inflate. And even though it is the biggest screen we recommend for home use, it is still easy to set up, use and take down."
Features of 16-foot x 9-foot Open Air Home Screen:
220-inch Diagonal Projection Surface
Matte white, wrinkle resistant, smooth ripstop nylon
Black-backed projection surface blocks lights from behind, improves contrast ratio
Ultra lightweight – weighs less than 20 pounds when deflated and fits inside a duffle bag
Air blower provides constant inflation
Heavy duty PVC carrying bag for screen, air blower, ropes, stakes etc
20 MPH wind rating
The 16ft x 9ft Open Air Home Screen is now available for $999, while the two smaller versions: 12ft x 7ft and 7-foot are available for $599 and $449, respectively. According to Open Air Cinema, the 16-foot screen also available as part of the recently announced CineBox Home Backyard Theater package, which includes projection, sound and all cables needed to operate your own backyard theater.