AC Browser Plus is a multi-windows File Manager that works as a Windows Explorer replacement. The program is abled to open as many as folders in a single application. It is contrast with the standard Windows explorer which offers to open maximum of two windows simultaneously. Most of the windows functions related to Windows Explorer can accessible from AC Browser. As usual, the top panel of AC Browser displays all the hard disk of PC.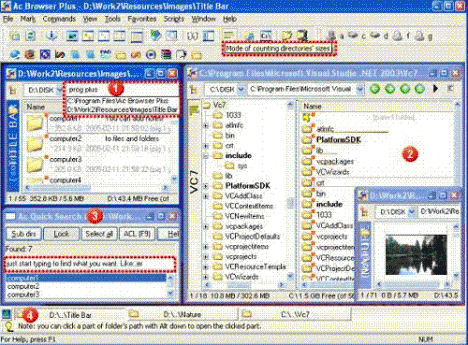 Beside that, AC Browser also has offers a set of tools for navigating the folders, integrated FTP client, image handling (viewing and conversion) and manage the files more effectively as compare to the standard explorer.
The key features of AC Browser :
Integrated FTP Client.
Folder synchronizer tool working with local, network, FTP and zip folders.
Adding comments to files and directories.
Multi window interface makes it easier to use.
Zip as folders, packing, unpacking with easy.
Support Multi Window Interface.
View, edit text and image file straight from the file manager.
Integrated with images converter that able to convert image to another type, change the resolutions and other characteristics.
Currently, AC Browser Plus is available for download and in two version, Free and Plus version. The only difference between Free edition and Plus version is the free edition limit to open three windows at same time while Plus version offers unlimited of windows open.