The OpenOffice.org development team has taken OpenOffice.org 3.2 to another development milestone by releasing the first release candidate (RC1) of OpenOffice.org 3.2 for public to test before the final version of OpenOffice.org 3.2. According to the development team, the startup time for OpenOffice.org 3.2 has been reduced by 46 percent as compared to the OpenOffice.org 3.0 which decrease nearly 5 seconds of startup time.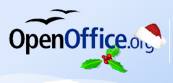 Apart of the speed, the free office productivity suite has been improved to support password protected Microsoft Office documents, save encrypted Word documents, compatible with OLE objects, form controls and pivot tables of Microsoft Excel. Other notable changes in OpenOffice.org 3.2 include further strides in compliance with ODF 1.2 including closer conformance to OASIS ODFF/ OpenFormula specifications, supports for Postscript based OpenType fonts, Draw and Impress now support comments (formerly known as sticky notes) to support collaboration.
The OpenOffice.org 3.2 RC1 is now available for free download from the OpenOffice.org website for all supported operating systems and languages. The full list of new features of OpenOffice.org 3.2 RC1 is also available at OpenOffice.org.