Now technology convergence is a trend especially in consumer electronics world. With the recent announcement from OpenPeak, this newly released OpenFrame based Media IP phone is another good example of able to integrate data, audio and video capability into a single network capable box, delivering a full rich multimedia experience in digital home.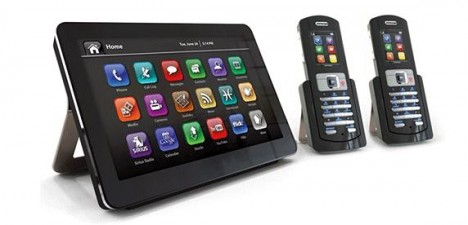 What is more attractive here is this media device is powered by Intel famous ultra low power Atom processor that is able to handle multiple processing tasks besides media playback. To make it a perfect media center, it is further enhanced with touch screen module that simplifies the whole control process. User can now access almost everything from internet service providers, ranging from emails, weather forecast, RSS and even media contents download directly from Youtube websites through its built in Wi-Fi capability.
OpenPeak's IP Media phone is expected to compete against AT&T recently launched Home Manager system since both are having similar feature sets except additional VOIP (Voice over Internet Protocol) capability on OpenPeak. No pricing available yet, the media phone will be commercialized in consumer market by Q1 2009. Although it may be a bit more expensive (since no subsidy from service provider like AT&T), but the software based VOIP capability stands a great advantage over its rivals in this competitive market segment.