Have you ever experienced the difficulty to get the right program to open the some files with unique extension? I think it is quite common for everyone and what we usually do is try to search for the right program to open it but now with this simple utility named as OpenWith.org Desktop Tool, it simplifies the searching process for the right program to open any type of files and in case there is none, the utility will further link users to download the correct one online without much hassle.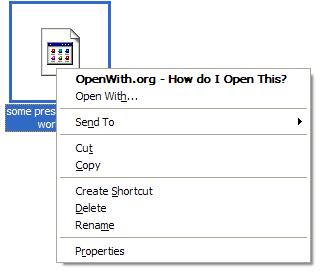 During the installation, users will be prompted to install the PC MightyMax 2009, a top rated registry cleaner that is claimed to be able to speed up your computer and solve annoying problems. If you think this is not required, just un-tick it to skip this program installation and proceed to the next step. Once installation is completed, users can start using the utility by right clicking on any unknown format files, following by left clicking on "OpenWith.org – How do I Open This?". OpenWith.org will look for any suitable programs and if they are not already installed, it will point users to the download link to get them directly.
The utility is compatible to run with Windows 98, ME, 2000, XP and Vista. If you think this is useful, just download it here at no charge for immediate use.