Probably you might need to run several utilities tools to figure out what have been gone wrong with your Windows OS and do some fixing on it. Now you may try out Perfect Utilities as an alternative to your existing utilities tools. Perfect Utilities is a simple and user friendly tool that will optimize your PC and fix computer problems like slow speed, blue screen, deadlock errors and etc. It also able to maintain system stability, security, keeps system running smoothly and improves the overall performance.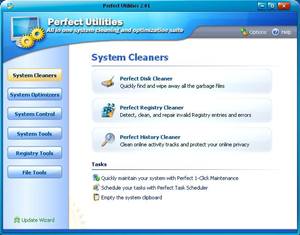 The Perfect Utilities is featured with more than 20 systems optimization and cleaning tools including Junk File Cleaner, Registry Cleaner, Disk Cleaner, Memory Optimizer, System Information, Registry Backup Tool, File Encryption Tool, Safe Uninstaller, Duplicate File Finder, File Shredder, File Recovery Tool, Disk Defragment Tool and etc. All of the tools have been organized into categories and provides graphical statistics whenever possible.
Perfect Utilities includes the following features:
Repair more than 99% of computer problems like deadlock, blue screen and comprehensively improve its potential performance.
Optimize your hard disk, memory and whole Windows system to give your computer maximum performance.
Lower the probability of errors like pops, deadlock and others to boost your PC efficiency.
Clean up all junk files to free up disk space and improve the performance of your computer.
Repair the bugs that cause IE malfunction, clean up all IE history to protect your privacy and optimize data transmission to improve your web surfing speed.
Clean up your computer history to avoid leaving your privacy and personal information like Account, Password, Credit Card Number and others vulnerable to the public.
Manage Windows startup applications to keep your Windows fast and secure.
Remove the installed applications that you no longer need to save valuable disk space while keeping your device clean and trouble-free.
Provides you with the Backup and Undo option to easily recover any changes so you can restore your Windows Registry to a previous state.
Scan your system and display the update option to help enjoy the latest advances in technology and protect your computer.
Get Full Optimization for your PC in a minute and you will get faster PC, more disk space, all unused files removed and all issues broken fixed.
Optimize RAM and boost your system performance up to 200% by cleaning the content of your RAM and let you know the CPU information, memory usage and applications running on your computer.
Offers you with the One-Click Maintenance, an all-in-one system maintenance tool that will repair, optimize and protect your computer to improve its overall performance.
Perfect Utilities is compatible with Windows 95, Windows 98, Windows 2000, Windows XP, Windows 2003 Server, Windows Server 2008 and Windows 7. It is available as a freeware.
Download Prefect Utilities:  Perfect Utilities v2.01 (en) and Perfect Utilities v2.01 (zh_CN).