It is a good habit to run disk defragmentation once in a while in order to keep your PC performance optimized for daily use. However, most of us are reluctant to run it periodically due to the hassle and the need to stop current works and close all running programs just to execute it correctly. Furthermore, the whole defragmentation process could take up quite a while before completion. Now, there is a utility named as Disk Defrag that can optimize and speed up disk defragmention by running it under optimum condition.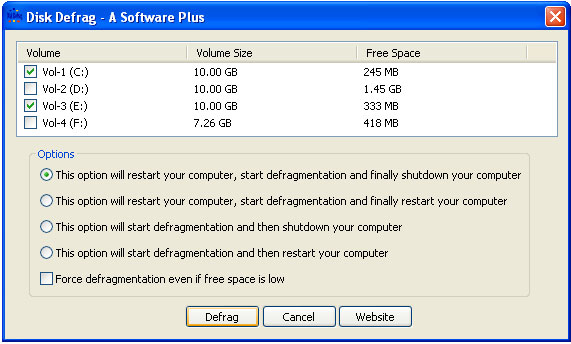 Disk Defrag is a tiny utility that provides few flexibilities to perform disk defragmentation. You can choose any of the below scenarios:
i. Restart your computer, then only start defragmentation and shutdown your computer once is done.
ii. Restart your computer, then only start defragmentation and restart your computer once is done.
iii. Start defragmentation and then shutdown your computer.
iv. Start defragmentation and then restart your computer.
If you choose to restart your computer prior to performing disk defragmentation, it will refresh your system by running only defragmentation so that CPU resource can be purely allocated for defragmentation, which is crucial to speed up the whole defragmentation process. On top of this, it will able to eliminate the common problem such as files in use or not able to be defragmented due to the reason of files being locked by OS or running programs.
Upon disk defragmentation completion, you can choose to either shutdown or restart your computer. This feature is important especially when you want to leave your system running overnight, the computer can be shutdown automatically once defragmentation is done.
Disk Defrag 1.0 is a freeware and useful utility which can help to speed up, optimize and automate some of the actions before and after defragmentation process is started. It is compatible to run in Windows XP, Windows Vista and Windows 7.