RAM (Random Access Memory) is a "working memory" which keeps all current in use application, operating system and data so that they can be quickly reached by computer's processor. RAM is much faster to read from and write to if compare with other kinds of storage in a computer. However, if you are running too many applications and processes concurrently, RAM may get overloaded and you will notice your computer performance may slow down or even crash. To improve RAM performance, there is a memory management and optimization tool named as RAMRush that is able to optimize memory usage to improve your system efficiency.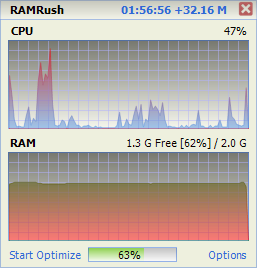 RAMRush is freeware and is able to optimize memory usage and free up physical RAM in intelligent way. By running it periodically, it is able to prevent system crashes caused by memory problems, remove memory leaks, increase the memory availability by freeing up physical RAM and defragmented system physical memory to improve system performance. Once you have gotten it installed, it will appear as tray icon. When you mouse over to the tray icon, it will display the CPU and RAM usage in real time, as well as last optimize time and free up memory size. To run RAM optimization, you can either double click on the tray icon, or click Start Optimize or use the hot key Ctrl+Alt+O.
RAMRush is absolutely free to download and is compatible to run on Windows 98/ME/2000/XP/2003/Vista/2008/7. The pre-requisite of the installation is you must have at least 1MB disk space and 5MB to 8MB RAM. For Windows 98/ME, you need to have GDIPLUS.DLL available at your computer.
Check out more free memory optimizer software.