Orbit Downloader, the leader of download manager revolution recently release it latest version of Orbit Downloader 2.7.2 and available to download for free. Orbit Downloader is devoted to new generation web (web2.0) downloading, such as video/music/streaming media from Myspace, YouTube, Imeem, Pandora, Rapidshare, and support RTMP. And to make general downloading easier and faster.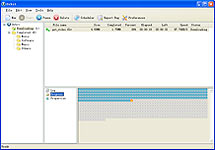 In this version, Orbit Downloader has improved on ability to use Orbit Downloader Grab++ and Grab Pro at the same time download video and music, add Firefox addon to support Firefox 3.0.1 and fixed the bug in GetIt button.
Beside the improvement, serveral new features also included:
Grab Pro – Download Youtube with no failure.
More efficient mirrors selection algorithm and faster download sources.
Maximum possible download speed, claimed to be the fastest download manager.
Download social music and video from video hosting sites include Youtube, Pandora, Myspace easily.
Support all streaming media protocol include RTMP/MMS/RTSP.
Support all popular browsers include Firefox 3 Beta.
There have serveral reasons why one may want to use Orbit Downloader:
Orbit Downloader supports HTTP/FTP/HTTPS/RTSP/MMS/RTMP protocols and provides a total solution to download rich media such as streaming media, RTMP, social networking sites, music and video.
Orbit Downloader is based on P2P and multi-source downloading technology whereby able to provide greater speed.
Orbit Downloader is written with efficiency in mind, it typically uses less than 3MB of memory and 3% of cpu when downloading. Additionally, the installation package is less than 2MB.
Support RapidShare.
It simple, clear user interface and easy to use.
Free.
Update: Orbit Downloader 2.7.6