iLovePhotos, a new photo management and sharing desktop software for Mac users was unveiled by Blue Lava Technologies in the DEMOfall 08 at Sheraton San Diego. According to the developer, this new software designed for Mac (Windows version will be coming soon) can automatically process, organize and share photos in an efficient way. It aims to provide a more efficient and user friendly tool for photo enthusiasts and encourage more digital images to be shared online.

iLovePhotos features quite a few interesting functions such as face detection, automatic sharing and slideshow look. The face detection feature is a pretty useful organizing function which can identify a face in a photo and automatically sort photos which have the same face. Sounds familiar? Well, this feature is quite similar to the new facial recognition and tagging feature added to Google photo sharing app, Picasa, lately. (Read our previous post). This so called face detection feature will recognize the faces of a group of people in a photo and it will then automatically create a folder with pictures that have the same faces. Users can then do the name tagging process for these faces. Besides name, users also can tag these photos with key words such as "pet", "function", "birthday party", etc. Proper tagging will help the sorting and calling out of these photos more quickly.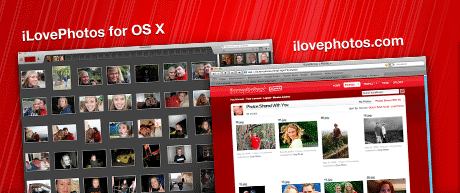 Besides the face detection feature, iLovePhotos can also automatically set up slide shows based on events or people. This smart program will base its selection on an algorithm to decide which photos have just been added by users and which haven't appeared for some time. It will then add the appropriate photos to the slideshow. Users can embed this customized slide show to their sites or blogs and watch it with their iPod, iPhone or Apple TV. Automatic photo sharing is another cool feature in iLovePhotos. iLovePhotos will extract the contact information from users' address book and allow users to set up sharing feed with their friends via the contact email address. The email has links to iLovePhotos.com, where the photos are uploaded.
iLovePhotos is in Beta now. Users can give a try to this new tool after registering themselves to the site.