For those users who frequently use Notepad-like text editor to keep their important notes, then can try out AllMyNotes Organizer as an alternative to their existing text editor. AllMyNotes Organizer is a note taking program for Windows operating systems. The note taking program has been designed for allowing the users to organize their notes into flexible virtual folders that present in tree structure. For easy access and instant searching, all the notes are stored in a single file.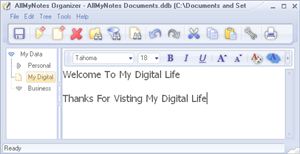 AllMyNotes Organizer includes the following features:
Comfortable tree-structured organization.
Functional and yet simple interface with few skins and languages.
Many drag-and-drop features – drag in files and folders, quickly reorder documents in the tree and even move them between topics.
Rich-Text editor with different formatting functions.
View for convenient preview of Notes and Folder content.
Powerful global search for text across one or all notes with different options. Filter-on-typing for extra fast, real-time. Global search allows powerful Google-like query language (*).

(*) For example, you can type "+Hello +Jim -Coffee" which will find all notes that contain words Hello and Jim (in any order) and will not contain word Coffee.

Search or replace text within notes.
Import/export from or to txt, rtf, and html files.
Strong security – files are encrypted and can be password-protected.
Convenient keyboard shortcuts for all editing and file management commands.
Flexible toolbar editor – to adjust application to your personal needs.
Wealth of options to customize the program options and user interface.
AllMyNotes Organizer is compatible with most of the Windows operating systems including Windows 7 and Windows Vista. It's available in two versions, free and deluxe edition.