iPhone running on iOS is famous now due to its user friendly and multitouch capability but if you would like to have a feel on how Android or Windows 7 OS running on your iOS device, now there is a simulator tweak that you can install with ability to 'boot' to Android or Windows 7 OS. Named as OSFaker, it enables users to run emulation at any time to either familiarize or showcase to your surrouding friends.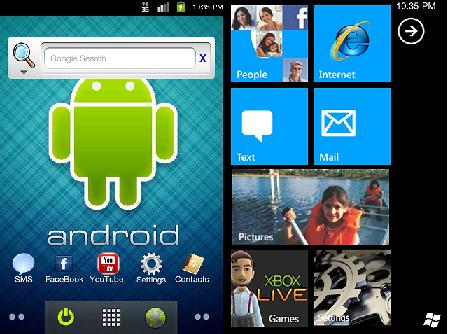 As the name implies, OSFaker is not a real full complete OS but instead, it just emulates the actual interface to give you a good feel on how the Android and Windows 7 OS running on your mobile device. Since it is in Cydia, that also means you will need to jailbreak the iOS device before it can enjoy such tweak. For the start, just head over to Cydia and under 'Search', key in 'OSFaker' will list down the respective app ready for download. Once Springboard restart, the tweak will take effect with a new icon appeared on your Springboard. Tap on it will launch the OSFaker with both Android and Windows 7 OS for selection. Surprisingly, the interface is quite nice resembling the actual Android and Windows 7 menu but at much lighter weight with very responsive touches and can be launched in emulation mode instantly.
OSFaker is currently available for free download at Cydia under BigBoss repository.