Firefox users are advised to update the plugins installed into their browser from time to time in order to prevent any interruption while browsing or due to exposure to malware, viruses and other security threats. Plugins don't always update automatically, hence, users need to check from time to time whether the installed plugins are up to date. To update the plugins installed, users just need to go to Menu Bar, select Tools -> Add-ons and find the plug-in tabs to check all the installed plugins in the browser. Users can check on each and every plug-in whether they are updated or outdated by clicking to the "Find Updates" button to get the latest updates.

Some users perhaps are of the opinion that checking the updates one by one is quite time consuming and tedious. To expedite the whole process and get things done more quickly, users can actually open their Firefox browser and go to the Mozilla Plugins Check Page to have an overview of all the plug-ins installed to the browser. Users can view all the information and update status in a single page.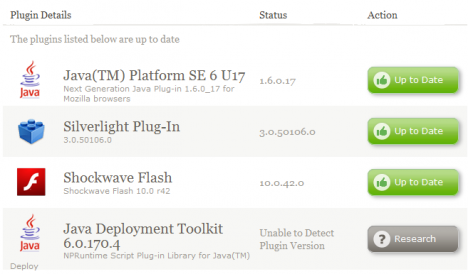 Users might notice some plugin status marked as "Unable to Detect Plugin Version". For cases like these, users can just click on to the "Research" button to do a quick search via Google Search Engine to reach the developer or vendor's website and get the latest updates and info.