Panasonic has announced the upcoming launch of its latest full HD digital camcorder, named as Panasonic HDC-TM25, which comes equipped with high-end features such as 2.7-inch swivel display, 16.8x optical zoom, 1.5 megapixel sensor with 1/5.8 inches, 2-channel Dolby Digital sound, and capable to video recording with a resolution of Full HD (1920 x 1080 pixels) in the AVCHD format to enhanced low-light performance and expanded dynamic range.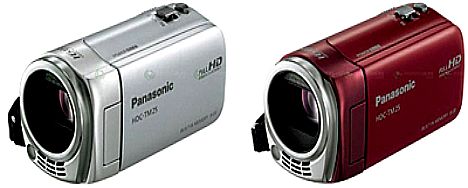 Features of Panasonic HDC-TM25 Camcorder:
Intuitive 2.7-inch swivel display
16.8x optical zoom
1.5 megapixel sensor
Support full HD (1920 x 1080 60i) video recording in AVCHD format
8GB of internal memory
Supports micro SD, SDHC, SDXC memory card slot
2-channel Dolby Digital sound
Dual microphones
Mini USB and Mini HDMI ports
The new affordable Panasonic HDC-TM25 full HD camcorder comes with two colors: silver and red color. Panasonic HDC-TM25 measures 108.5 x 51.5 x 57.5 mm and weighs only 169 grams is scheduled to be available in coming February 2011.