Panasonic has expanded the award-winning LUMIX G Series with its new elegant and compact Panasonic LUMIX DMC-GF1, which the company claims as the world's smallest and lightest Micro Four-Thirds system digital camera with built-in flash, aiming to redefine digital photography standards.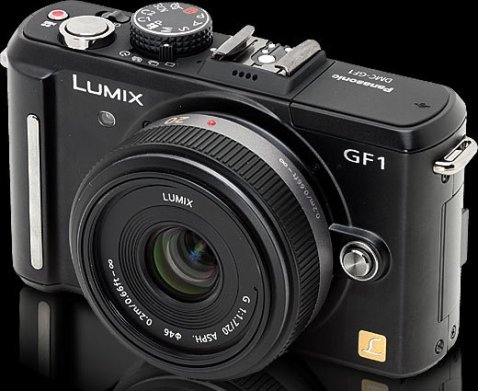 "Panasonic changed the digital camera industry with the world's first Micro Four Thirds digital camera, the LUMIX G1 – a compact "DSLR-like" digital camera that produces exceptional image quality. Then, as we continued to raise the innovation bar, Panasonic launched the LUMIX GH1, adding full High Definition 1080p video recording with continuous auto focus," said David Briganti, Senior Product Manager, Imaging, Panasonic Consumer Electronics Company. "The new LUMIX GF1 continues the evolution and is the perfect addition to our LUMIX G Series, as its sophisticated, small body makes it easier and more convenient to carry. The GF1 is ideal for point-and-shoot consumers looking to step-up to DSLR-quality or for current DSLR users who want greater convenience without compromising performance quality or creative flexibility."
Powerful Features Of Panasonic LUMIX DMC-GF1:
High resolution 12.1 megapixel Live MOS Sensor and Venus Engine HD
Large 3-inch Intelligent LCD with wide viewing angle and 460,000-dot resolution
My Color mode includes 7 preset effects including Expressive, Retro, Pure, Elegant, Monochrome, Dynamic Art, Silhouette and Custom
Records 1280 x 720 HD video in AVCHD Lite, and HD Motion JPEG in 1280 x 720 pixels resolution
Live View function lets users see how these settings will effect the photo before they shoot
Panasonic's new Scene mode, Peripheral Defocus, allows users capture a photo where the foreground is in focus and background is blurred – or vice versa
Impressive iA (Intelligent Auto) mode encompasses Face Recognition (up to 6 faces ), Auto Focus (AF) Tracking, Mega O.I.S. (Optical Image Stabilization), Intelligent ISO, Intelligent Exposure and Intelligent Scene Selector
Wide-range of AF modes including Quick AF, and multiple-area AF with up to 23 focus areas
Highly-effective Dust Reduction system places a supersonic wave filter in front of the Live MOS sensor that vertically vibrates around 50,000 times per second to repel the dust
According to Panasonic, "New for the LUMIX G Series, the LUMIX GF1 is compatible with an optional Live View Finder (DMW-LVF1), which provides the full-time live view function boasting 100% field of view regardless of the attached lens. To further expand the LUMIX G Series system, Panasonic Micro Four Thirds digital cameras can be used with Four Thirds System interchangeable lenses via an optional mount adaptor DMW-MA1 and with the prestigious Leica M/R lenses using Panasonic's DMW-MA2M DMW-MA3R."
Panasonic LUMIX DMC-GF1 that available in option of two kits – one with LUMIX G 20mm/F1.7 ASPH lens while the other includes LUMIX G VARIO 14-45mm/F3.5-5.6 ASPH/MEGA O.I.S lens, will hit the market starting early October 2009 for around $900 (same price).