Panasonic has announced the availability of its new 12.1 megapixel LUMIX DMC-TS1 (also known as Panasonic DMC-FT1 in UK), which the company claims as the world's first waterproof (depth of 10 feet), shockproof (falls up to 5 feet) and dustproof digital camera with AVCHD Lite HD video recording capabilities, featuring 2.7-inch Intelligent LCD with wide viewing angle, 28mm wide-angle LEICA DC VARIO-ELMAR lens with 4.6x optical zoom and Panasonic's proprietary iA (Intelligent Auto) mode.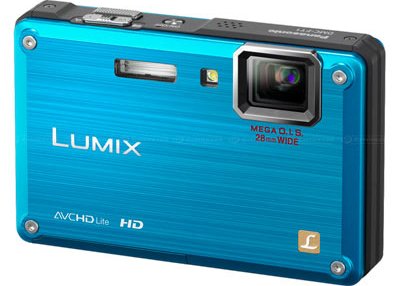 "Many consumers are hesitant to take their digital cameras on outdoor activities like skiing, hiking, boating or even a day at the beach, for fear it will be damaged. With the introduction of the LUMIX TS1, we offer a digital camera with a rugged design that consumers can feel confident using in these tough environments," said David Briganti, National Marketing Manager, Imaging, Panasonic Consumer Electronics Company. "Even more, with the ability to take both beautiful high-quality still images and High Definition video, with AVCHD Lite, the TS1 offers a powerful one-two punch to capture memories that can later be shared with friends and family."
Impressive Highlights Of Panasonic's LUMIX DMC-TS1:
The world's first waterproof, shockproof and dustproof digital camera
12.1 megapixel resolution
28mm wide-angle LEICA DC VARIO-ELMAR lens with 4.6x optical zoom
Panasonic's proprietary iA mode
2.7-inch, 230,000-dot Intelligent LCD display
AVCHD Lite High Definition (HD) video recording capabilities
High-Speed Burst (Speed Priority) that fires off approximately 10 shots per second
New Panorama Assist scene mode
High-speed, high-performance Venus Engine HD boasts twin CPUs to provide approximately 2.4x processing capability and support for Face Recognition, AVCHD Lite and HDMI output
Starts up quickly in 1.3 seconds and shutter release time lag is approximately 0.005 seconds
Included Software PHOTOfunSTUDIO 3.0 HD Edition allows users to view, edit and archive their captured contents with greater ease and fun
According to Panasonic, "Also new in 2009, the TS1 features iA mode for both still images and in Movie Mode. For iA in Movie Mode, the TS1 features Optical Image Stabilization (O.I.S.), which helps prevent handshake when using high-powered zoom. Face Detection automatically detects a face in a frame and adjusts focus, exposure, contrast, and skin complexion on the face. Intelligent Exposure continually checks the ambient light level and adjusts the exposure setting as conditions change to prevent blown highlights and blocked shadows. And Intelligent Scene Selector automatically switches between Normal, Portrait, Macro, Scenery, and Low Light modes according to the situation to optimize visual quality. A Wind Cut function is also available to block out most of the noise from background wind. Optical zoom can be used in motion image recording. Users can start video recording by simply pressing a dedicated button on the camera's back panel."
The new Panasonic LUMIX DMC-TS1 digital camera that sports an airtight body protected against water immersion, dust and sand will be available in silver, green and orange colors in coming April 2009 for about $400.