Panasonic has introduced its new LUMIX DMC-G2 (the successor to LUMIX G1), which the company claims as the world's first digital interchangeable lens system camera with a touch-control movable LCD screen, allowing users to manage the auto focus and shutter release simultaneously with just a touch on the screen.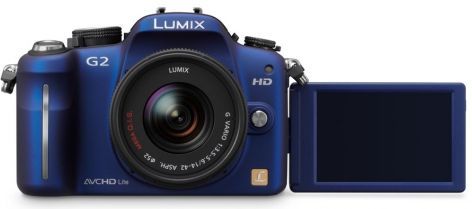 "With the LUMIX G2, Panasonic is pleased to continue to lead the evolution of the Micro Four Thirds platform and also be the first in the industry to offer a touch-screen interchangeable lens system camera," commented David Briganti, Senior Product Manager for Imaging at Panasonic Consumer Electronics Company. "Touch-operation is a user interface with which many consumers are both familiar and expect, and we think the LUMIX G2's touch-operation makes it easier and quicker to take photos and videos that have professional-like effects."
Features of Panasonic LUMIX DMC-G2:
3-inch free-angle LCD display with 460,000 pixels and touch-screen operation
12.1-megapixel Live MOS image sensor complemented with Venus Engine HD II
AF Tracking automatically tracks a selected subject as it moves within the frame
Records 720p (1280 x 720 pixels) HD video in the AVCHD Lite format (MPEG-4 AVC/H.264)
Motion Picture P mode for shooting rich, beautiful and softly focused HD movie images
Double Live View aimed for easy, accurate shooting
iA mode includes a host of advanced functions and technologies – Face Recognition, AF Tracking, Intelligent Exposure, Intelligent Scene Selector, Face Detection AF/AE, Intelligent ISO Control and MEGA O.I.S. (Optical Image Stabilizer)
Dust Reduction System places a supersonic wave filter in front of the Live MOS sensor for vibrating vertically around 50,000 times per second
My Color mode includes a Custom mode and 7 preset effects – Expressive, Retro, Pure, Elegant, Monochrome, Dynamic Art, and Silhouette
Dimensions: 124 x 83.6 x 74 mm ; Weight: 371 grams (body only)
Available in 3 variants of color – red, blue and black
Panasonic LUMIX G2 will come with the new LUMIX G VARIO 14-42mm/F3.5-5.6 ASPH/MEGA O.I.S. lens in a package, fully compatible with all Micro Four Thirds System lenses.
Update: Panasonic LUMIX G2 is slated to be available in late-May 2010 for around $800.