To tap the global demand for competitive market today, most of the electronic makers have continued develop their product that deliver innovative features, more stylist and smaller in size as well as lighter weight to increase workforce mobility. One of the famous electronic makers, Panasonic has recently introduced the world's lightest rugged laptop with DVD Drive which is known as Toughbook S9.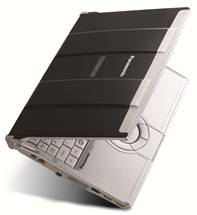 The Toughbook S9 is powered by Intel Core i5-520M vPro processor, comes with a standard battery that provides up to 11 hours of battery life and weighs only 0.3 pounds. However, in order to withstand the demands of a highly mobile work environment, the device has been packed with magnesium alloy case and spill-resistant keyboard/touchpad to endure drops, bumps and spills.
Key features of the Toughbook S9 includes:
Operating Systems – Genuine Windows 7 (with XP downgrade option).
Processor – Intel Core i5-520M vPro Processor (2.4 GHz).
Hard disk – 320GB shock-mounted flex-connect hard drive.
Memory – 2GB RAM (DDR3) with expandable to 6GB.
LCD – 12.1-inch widescreen WXGA LCD display with 1280 x 800 resolutions with LED backlighting and Anti-glare screen treatment.
Battery – Up to 11 hours of battery life with standard battery (MobileMark).
Optical device – DVD super multi-drive.
Ports – HDMI and VGA video outputs.
Business-rugged – 30-inch operating drop (to base only), 26 sides 12-inch drop (non-operating) and 220 lbs compression-resistant.
Embedded Connectivity – Supports 802.11a/b/g/n connectivity, Bluetooth enabled, Gigabit Ethernet, optional integrated WWAN / Gobi2000  mobile broadband (EV-DO and HSPA) and optional Fingerprint reader.
The Panasonic Toughbook S9 with dimensions of 11.1 X 8.3 X 0.9-1.5-inch is available in United States for estimated price of $2499 with a standard three-year limited warranty.