The Japanese electronic manufacturer, Panasonic has unveiled a pair of camcorders in Japan, which are HDC-TM350 and HDC-TM30. According to the company, Panasonic TM350 is claimed to be the first ever HD camcorder with largest capacity of 64GB flash memory that supports the recoding by up to 16 hours of 1080p video, while TM30 is claimed to be the lightest camcorder with 32GB of internal memory at about 0.5 pounds.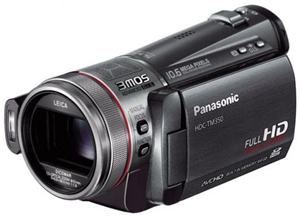 The Panasonic HDC-TM350 camcorder is featured with a 3MOS 10.6-megapixel sensor that supports 12x optical zoom and supports 5.1 channel audio recording. The camcorder is able to shoot by up to 60 frames per second at 0.9-megapixel or 24 frames per second at 2.1-megapixel. Besides, it also featured with face detection function, has built-in microphone sockets and SDHC card slot.
HDC-TM30 is a more economical camcorder which features a single CMOS 2.1-megapixel sensor that supports up to 16x zoom. It also equipped with a SDHC card slot for memory expansion.
Both Panasonic camcorders are expected to be available on 25 June and at the price of $1568 for TM350, while at the price of $1045 for TM30.