Paragon Total Defrag 2009 is a comprehensive utility software for total file system defragmentation and optimization that ensures PC maximum performance. It using low-level defragmentation to provide a complete and exhaustive defragmentation and disk optimization. The Paragon Total Defrag 2009 also perform complete file system optimization including online directory consolidation, paging files, master file table (MFT), metadata, registry hives etc. In addition, it defragments and moves critical system files and frequently accessed files together on the external (fast) cylinders of the hard disk to increase system performance and enhanced data access speeds such faster virus scans, back-ups and file searches. The new Total Defrag has added defragmentation of GPT disks as well as MBR disks, defragmentation of dynamic volumes, Innovative Technologies, and Smart Defragmentation to maximize file system performance. Moreover, unlike other defragment software, Paragon Total Defrag require only less than 1% of free space on the hard drive to operate.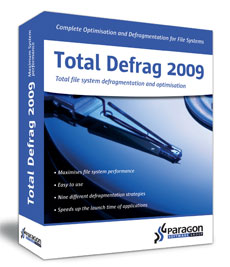 Features of Paragon Total Defrag 2009
Online/Offline defragmentation of any disks/volumes including RAID systems
Unique low-level file system defragmentation and optimization algorithms
9 different defragmentation strategies
Boot-time defragmentation of critical system files
Defragmentation of GPT disks as well as MBR disks
Defragmentation of dynamic volumes
Two Defragmentation Mode(Fast or Safe)
Ability to speed up launch of applications
Ability to maximize file system performance
Bootable CD image with "run-from-CD" edition
Compatible with Windows 2000/XP/Vista
The Paragon Total Defrag 2009 normally cost $29.95 for purchase. Users who might intend to try Paragon Total Defrag 2009 now can grab a great opportunity offered by Paragon to enjoy a free full version license key for special edition of this utility software. To grab a free full version Paragon Total Defrag 2009 with genuine and working license key for this utility software, users can follow the steps below:
Visit this Promotional page http://www.paragon-software.com/registration/td2009.html.
Fill out the registration form by entering name, email address (make sure the email address is valid), country then click 'Submit' button as shown in below image.
Now check the email that you've submit, you will receive an email, with the activation code in it.
Open the email with a subject "eservice" and note down the User ID and Serial Number.
Download and install Paragon Total Defrag 2009 setup installer.
Enter the serial number during installation to activate the full version of Paragon Total Defrag 2009.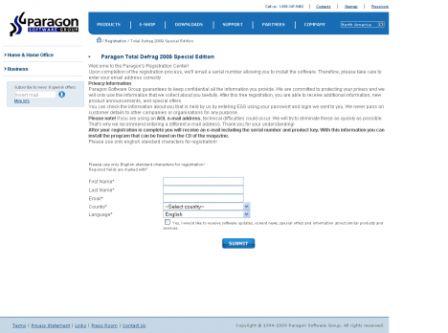 Enjoy the absolutely free full version of Paragon Total Defrag 2009 special edition.