Having problems to run your computer and the operating system smoothly? Paragon Total Defrag is a comprehensive utility software from Paragon Software that is designed to perform defragmentation and optimization to ensure maximum PC performance. With Paragon Total Defrag, users able to repair fragmented hard drives in both NTFS and FAT32 systems. In addition, Paragon Total Defrag able to speed up and optimize all critical system files and metadata including MFT (Master File Table), paging files, online directory consolidation, registry hives and many others.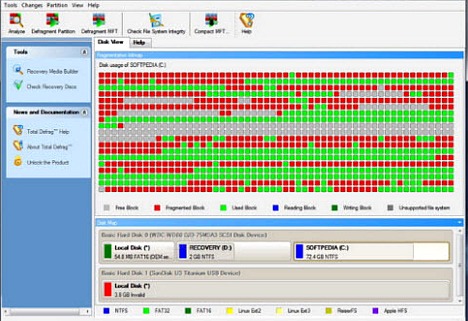 Features of Paragon Total Defrag 2010:
Smart Defragmentation to maximize file system performance
Online/Offline defragmentation of disks/volumes including RAID systems
Defragmentation of GPT disks as well as MBR disks
Defragmentation of dynamic volumes
Two defragmentation modes: Fast and Safe. Safe Mode is slower but it protects your data in case of a power failure during defragmentation
9 different defragmentation strategies
Boot-time defragmentation of critical system files
Ability to speed up launch of applications
Ability to maximize file system performance
Unique low-level file system defragmentation and optimization algorithms enable to operate disks of different file systems
Defragmentation of files that are located on USB 2.0 and IEEE 1394 (Fire Wire) drives (fixed drives only, not removable ones)
Low free space defragmentation (less than 1% free space required) lets you defragment almost full disks
Bootable CD/DVD to run Paragon Total Defrag without installation
Paragon Total Defrag 2010 normally priced at $49.99 per single license key. As part of promotional offer, interested users are now entitled to grab the Paragon Total Defrag 2010 special edition for free.
To get the free copy of Paragon Total Defrag 2010 special edition, just follow these steps:
Visit the promotional page: http://www.paragon-software.com/registration/td2010SE_CA.html.
Enter your name, email address, and other information, then click "SUBMIT" button as shown in below image.

An email from "eservice@paragon-software.com" will be sent to registered email containing the registration key for Paragon Total Defrag 2010 special edition.
Download Paragon Total Defrag 2010 from Computeractive store:

Paragon Total Defrag 2010 (32 bit): p13402-paragon_total_defrag_2010_32-bit
Paragon Total Defrag 2010 (64 bit): p13403-paragon_total_defrag_2010_64-bit

Note: Users must register or login to account Computeractive store to process the download.

Install Paragon Total Defrag 2010 and enter the license key to unlock the program.
Paragon Total Defrag 2010 supports Windows XP, Vista, and Windows 7.