Many users might not aware that partitions can be misaligned. Misaligned partition can turn to be a serious problem for hard disk drives if it is not tackle properly. Partition misalignment problem can affect the overall system performance, hardware life cycle and storage efficiencies.

In conjunction with the release of the latest Paragon Alignment Tool (PAT) which solves misalignment problems on 4K hard disk drives, SSD, RAID, SAN and in virtual environments, the software developer, Paragon Software, is offering users especially IT specialists who manage large storage environments, data centers or virtual servers a free download on a white paper explaining why misaligned partitions are a problem for hard disk drives. This white paper will tell users all major issues regarding partitions misalignment on 4K hard disk drives, solid state drives, RAID, SAN and in virtual environments. It also explains to users the reasons why partitions become misaligned and the consequential disadvantages.
Users who want to learn more about partition alignment/misalignment issues can go to Paragon site via the link here to register and get a copy of the white paper.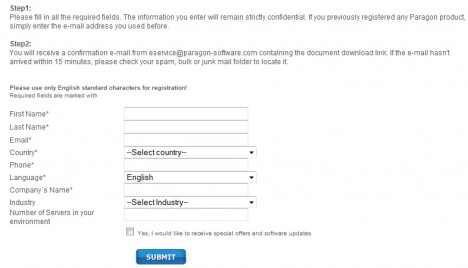 Once users have registered with Paragon, they will receive a confirmation email from the developer containing the document download link. Besides the download link for the white paper, Paragon Software also offers users to download Paragon Alignment Tool 2.0 Special Edition (Version 32 Bit and 64 Bit) together with the product key and serial number. Users can download the software and try the program. This interesting offer is valid until June, 30th ONLY!