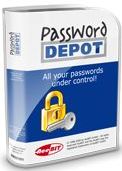 Nowadays, online banking, online shopping and other Internet services mostly requires users to register an user account to access the service. Thus, most people has more than one passwords for various Internet accounts. Password Depot 4, from AceBIT, is a comprehensive, powerful and easy-to-use password management software that designed to help manage all your private, confidential passwords.
Main Features Of Password Depot 4:
User friendly interface for easily managing your important passwords for the Internet, online banking (TANs), online shopping and so forth
Built-in Password Generator for generating uncrackable, secure passwords
Security algorithm Rijndael 256-Bit delivers ultimate protection for your sensitive data
Protects your confidential passwords against keyloggers, clipboard viewers and spyware
Auto-complete function for easy, quick entering your user name and password on sites automatically
Carry your passwords with you while on the go by saving Password Depot to your flash drive
Password Depot shared use on the local network together with other users at same time
Save password lists on FTP servers for worldwide access
Attachments for password entries
Enhanced Print command
Synchronization of password files
New Password history to save old password entries
Password Depot 4 full version normally costs £29.00 per single license. As part of Softwareload promotion, interested users are now entitled to download the Password Depot 4 Softwareload Edition at no cost. They're just giving away a limited number of free full version copies for Password Depot 4 with no expiry date.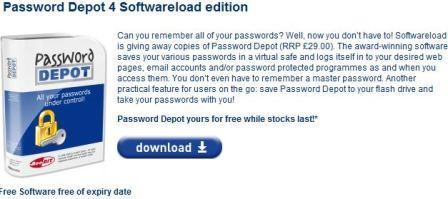 To grab a free copy of Password Depot 4, visit the promotion page at http://www.softwareload.co.uk/password-depot-for-free.html, and click on Download button to download the Password_Depot_4_Softwareload_Edition.zip (direct download link here).
The setup installer and the license key is contained inside the ZIP package.
Password Depot 4 is fully compatible with Windows XP, 98, ME, NT4, 2000, 2003, Vista (32-Bit) and Windows 7 platform.