PC Tools' Privacy Guardian is a powerful, safe and easy-to-use privacy protection tool that able to securely erase online Internet tracks and program activity records stored in Internet browser and other hidden files on your personal computer, aiming to guarantee your privacy.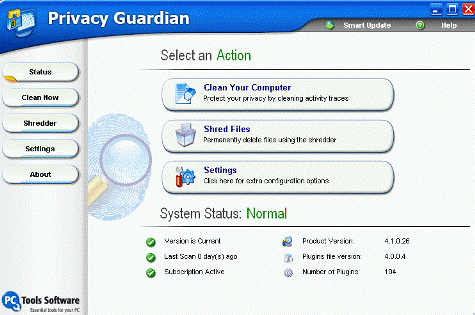 Features Of PC Tools Privacy Guardian:
Completely erases all traces of online Internet activities on your computer including cache, cookies, index.dat and history
Permanently deletes recycle bin contents, temporary files, document history and many more PC tracks
Bleaches free space and deleted files using Department of Defense standard (DoD 5220.22-M) making them unrecoverable using regular methods
Restores valuable hard drive space and enhances system performance by cleaning out old, unused temporary records
Plug-ins to clean the history of 100+ third party programs, including chat, image viewing, P2P applications and more
Supports Microsoft Internet Explorer, Netscape, Mozilla Firefox and Opera web browsers
As part of PC Tools promotional offer, users are now entitled to grab a free copy of Privacy Guardian 4.1, which otherwise costs $29.95 for use on up to 3 PCs. PC Tools Privacy Guardian has also been offered free previously with subscriptions of PC Tools newsletter.
Follow these steps to get Privacy Guardian 4.1 full version for free:
Visit promotion page at http://www.pctools.com/privacy-guardian/offer/.

Complete the registration form and click Submit
A email from PC Tools Software with the free license code for Privacy Guardian 4.1 will be sent via email instantly.
Download the latest version of PC Tools Privacy Guardian setup installer: pginstall.exe
Once installed, simply enter the received license name and license code to unlock and activate full version free copy of Privacy Guardian.
PC Tools Privacy Guardian 4.1 is compatiible with Windows Me, 98, 2000, XP and 32-bit Windows Vista.