PDF format is always a preferred way to deliver your presentation foils so that none of your recipients can modify them without your permission. But always, getting a suitable editing software for your PDF files could be painful unless you have the correct adobe editor to modify them. If you can't find suitable software to edit your PDF files, you may need this. Named as PDF hammer, it is an online tool that helps you to edit your PDF documents with few easy steps. It doesn't require any software installation on your PC and what you need is just an internet connection to upload the files to be edited later.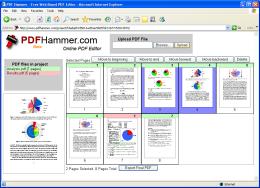 Once you have access the website, you can create a new project by uploading few of your PDF files that need to be edited. It allows user to arrange pages based on own preference, append one PDF page and add it to other PDF files, delete any pages and even more. Further assisted with color code, user will able to differentiate if the pages are originally belongs to the document or are newly added pages that can be moved around.
Currently the PDF Hammer is still in beta version. So we should expect a more features-rich version which includes pages rotation and watermarks or stamping to the pages to be available soon . Since it is free for use and no installation is needed, no harm to try it now.