PDF-XChange Lite is a simple and reliable PDF file creation and manipulation software that allow users to create or save PDF files for Windows operating system. With PDF-XChange Lite, users able to create and edit PDF files. It suitable for home users, small business and all those wishing to create PDF files. In addition, PDF-XChange is unrivaled in its ability to generate highly compressed PDF files whilst remain faithful to the original formatting layout. PDF-XChange supports multi-language such as English, Chinese, Japanese and Korean.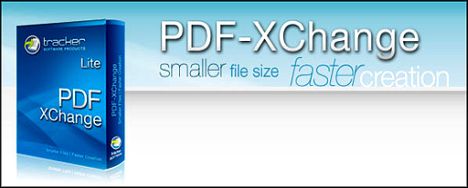 Features of PDF-XChange Lite 4:
Terminal Server/ Citrix Compatible
Multi-Language UI support
Output Documents from any Windows Application & Create new PDF file
Control Basic Paper Settings
Add Custom PDF AcroForms to PDF documents during creation
Embedded fonts support
Create PDF files with clickable literal URL links (http;//, mailto:) intact after converting to PDF
Resolution – Max Output 2400 DPI
Mirrored Printing Supported
Add Document Information/Metadata/XP Metadata
PDF Files are automatically optimized to get smaller size
PDF-XChange Lite 4 normally cost $24.00 for a single user license. As part of promotional offer, Tracker Software is giving away PDF-XChange Lite 4 full version with registration code for free. To grab the free copy of PDF-XChange Lite legally, just follow the steps below: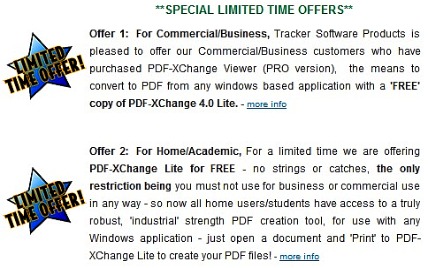 Download PDF-XChange Lite 4: PDFX4SA_LE_H.zip

Note: Does not require any registration serial / key for activation. Just download the "PDFX4SA_LE_H.zip" file, extract the setup and install it.

Install it to enjoy free full version PDF-XChange Lite 4.
PDF-XChange Lite supports Windows 2000, XP, Vista, Windows 7 (32/64 bit).