We have mentioned quite a number of PDF tools that can help simplify the effort in editing PDF files. However, if you are looking for an all-in-one solution which can help you to encrypt, split, stamp, rearrange PDF file, then this is the right tiny utility that can assist you. Named as PDFTools v1.3, it integrates all the useful functionalities into a simple interface that allows users to modify PDF files with enhanced security encryption at no charge.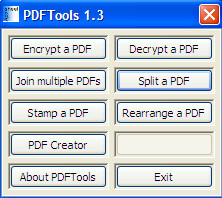 Once install and launch the utility, users will be brought to a simple buttons-based interface. Over here, there are many different functions such as joining, splitting PDFs, stamping, rearranging, and creating PDF files from XML and many more. Simply clicking on respective button will bring users to next step where they can browse for original PDF file, with destination output selection together with few basic configurations. Besides ability to edit and merge multiple PDF files, users can even choose to encrypt any PDF files, either with 40-bit or 128-bit encryption for secured protection.
PDF Tools v1.3 consume around 2.8MB of your hard disk space, is quite suitable to be used in any Windows Operating System environment for much more flexible editing capabilities which is always a huge restriction especially on PDF format files. If you think this is useful, just go and download it here for immediate use.