PENTAX U.K. announced the new PENTAX K-m digital SLR camera, which is specially designed for entry level digital SLR photographers. It is a simplified, user-friendly camera with compact and lightweight body.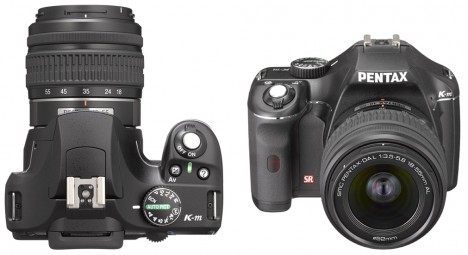 Some important features are
1. Compact, lightweight body
Despite the large-sized image sensor (23.5mm by 15.7mm), the camera offers compact and lightweight body. This becomes possible with the development of a compact, lightweight and high-rigidity stainless-steel chassis, downsizing of the Shake Reduction mechanism and circuit boards, high-density packaging technologies for most efficient positioning of various parts, and the repositioning of battery compartment.
2. Simplified operation system
A newly designed control system positions most of the buttons and levers on the camera's grip side resulting in easier operation of the camera. The functions of each button or lever will be displayed on the camera's LCD monitor with a single press of the help button.
3. PENTAX Shake Reduction mechanism
PENTAX-developed SR (Shake Reduction) mechanism reduces camera shake to produce sharp and blur-free images, especially under demanding shooting conditions, such as telephoto and dark scene shooting. It is done with the high speed position shift of image sensor vertically and horizontally using magnetic force at the amount of camera shake detected by a built-in sensor. The compensation effect is spectacular.
4. Dust Removal system
User-friendly DR (Dust Removal) system prevents dust from appearing on captured images. PENTAX-original SP (Super Protect) coating on CCD image sensor surface effectively remove dust and stains from the surface. Dust that remains on the surface could be shaken off when the SR system shifts the image sensor at high speed. In addition, DR system offers a Dust Alert function.
5. Auto Picture mode
Auto Picture mode could select the most appropriate shooting mode automatically, such as Portrait, Landscape and Macro. Automatic detection of situations requiring the Night Scene Portrait mode is possible in this camera type. Furthermore, all camera settings, such as aperture, shutter speed, white balance, saturation, contrast and sharpness, will be adjusted automatically by the camera for optimum results.
6. High-quality image
The PENTAX K-m features large, high-performance CCD image sensor (23.5mm x 15.7mm) with the sophisticated PRIME (PENTAX Real Image Engine) to produce beautiful, fine-detailed images. Custom Image function offers a choice of six finishing touches for the photo taken.
7. High-speed continuous shooting (3.5 fps)
High-speed continuous shooting allows the user to capture a sequence of a fast-moving subject with ease.
8. 5-point AF system
A five-point wide-area AF system (SAFOX VIII with five cross-type sensors) assures dependable, high-precision autofocusing. The AF system also offers improved autofocusing speed under poor-lighting conditions, which normally takes longer time in conventional AF systems.
9. Auto sensitivity control (up to ISO 3200)
Auto sensitivity control function automatically sets the optimum sensitivity between ISO 100 and ISO 3200, based on the subject's brightness level and the lens' focal length. The user could further reduce camera and subject shake by using higher ISO value under poor lighting situation.
10. Effective gradation compensation
Dynamic-range expansion function allows the user to expand a dynamic range to minimise white-washed areas in the image. The camera also offers shadow compensation function to minimise pitch-black areas lacking details.
11. Large  2.7-inch LCD monitor
The camera come with a large 2.7-inch color LCD monitor with approximately 230,000 dots on its back panel. This monitor's wide-view design allows the photographer to check the on-screen image from approximately 170 degrees both vertically and horizontally.
12. Bright, clear viewfinder
With combination of penta-mirror prism, a PENTAX-original finder optics and Natural-Bright-Matte focusing screen, the PENTAX K-m's viewfinder delivers a large, bright subject image with an approximately 96-percent field of view and an approximately 0.85-times magnification.
13. Digital filters
Built-in digital filters let the use add some creative and artistic touches to recorded images, without the use of a PC. A list of 14 different digital filters are selectable in order to create a desired visual effect.
14. Others
a) 10 Scene modes
b) Energy-efficient power supply, recording approximately 1,650 images with four AA-size lithium batteries
c) Status screen, displaying camera settings on the LCD monitor
d) Index function, for five different types of display and printing modes
e) Choice of 16-segment multi-pattern metering, center-weighted metering and spot metering
f) Simultaneous recording of RAW- and JPEG-format images
g) Compatibility with SD and SDHC memory cards
h) In-body development of RAW-format images
i) Compatibility with SDM-equipped lenses
j) PENTAX PHOTO Laboratory 3 RAW data processing software and PENTAX PHOTO Browser 3 browser software included