Pentax has just launched new Optio M60 compact digital camera. This camera comes with 10-megapixel CCD sensor, 5x optical zoom, 2.5-inch large LCD display and 8 shooting scene modes. The 8 scenes include Landscape, Portrait, Night Scene, Night Scene Portrait, Standard, Flower, Sport and the new Candlelight. This camera is an improved version of its predecessor, M50.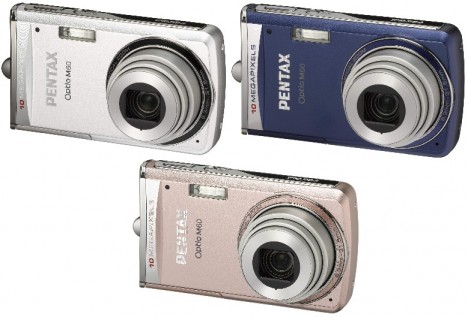 The new camera is making use of Advanced Auto Picture mode and the camera would be able to detect the condition of subject and select the scene mode automatically. Pentax also strengthen the face recognition function in this camera which enable the detection of 32 faces at once with high-speed (0.03 sec) AF and AE function.
Apart from that, it comes with Smile Capture application function (automatically distinguishes smile and takes photos) and Blinking Detection (gives warning to photographer if subject blinked during shooting). It also features Digital SR (Shake reduction that reduce camera shakes) by boosting ISO (up to 6400) to capture more light in shorter shutter speed.
Pentax M60 comes in 3 colours, i.e. silver, pink and blue. It will be released on 22 August at price around USD 180.