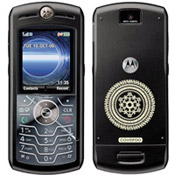 If you are sick of the typical casing for your Motorola SLVR, Samsung U340 or even BlackBerry phone, now there is a new cool product, Coveroo, that can help you to convert your phone from the "standard-look" to a more personalized façade. This interesting stuff will replace the original cover (the removable part that covers the battery) of your mobile phone with a customized metal or plastic cover with an engraving of a laser-created artwork chosen by you. You can add a Ying-Yang logo, Simpson characters, The Beatles, Barbie, Marilyn Monroe, Madonna, Gucci, etc.

There are more than 250 design templates for you to choose from. Alternately, you can design your own artwork and submit it to the manufacturer to produce your customized product as your custom Coveroo. It is a good idea, for instance, if you want to engrave your company logo, the CEO's face, etc on the BlackBerry phones to be given to staff. You can easily design your own Coveroo to replace the existing back cover. Isn't it brilliant? You get free advertising and staff will be reminded to work hard whenever they see the company logo or the boss's face on their phone.
The Coveroos are priced starting from $19.95 onwards, and depend on the artwork's complexity. The mobile phones that are currently compatible with Coveroo include iPhone 3G; BlackBerry Bold, Pearl, and Curve; LG Rumor and Dare; Palm Centro and Treo 700 and 800; Samsung Instinct; Verizon Blitz; and Motorola Razr v3. Users who are attracted to this cool stuff can order the covers online at Coveroo's Web site.