In conjunction to the holiday season, Phenom Communications has launched its unlocked watch phone which named as Dream. The watch phone has been designed to support two SIM cards that enable two phone numbers in one watch phone. The watch phone is featured with super advanced quad band technology which aimed to be used in almost all around the world.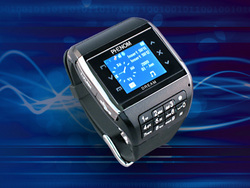 "The Dream is our most advanced model, geared for the sophisticated world traveler who values cutting edge technology, functionality, and elegance," said by Mati Herbst, Phenom Communications CEO. "The success we've had since launching the Phenom Watch Phone inspired us to go to the next level. Top designers, engineers, behavioral and usability experts came together to produce this high-end watch phone, using design elements and materials found in the most exclusive watches. Executives can wear it on any occasion while enjoying Phenom's unparalleled technological features."
"With a simple switch of the SD card, customers never run out of their favorite music or video." Phenom Spokesperson Jane Levit adds, "The Dream is our most exclusive model – it comes in sophisticated "night black" and is the couture of watch phones – at a still very reasonable holiday promo price of just $395."
Key features of the Dream Watch Phone:
Quad band GSM 850/900/1800/1900.
Dual active standby SIM card slots.
External keypad.
1.3-inch TFT LCD with 260k pixels.
Touch screen.
Built-in BT.
Vibrate mode.
Supports languages in English, Espanol, Italiano, Portuguese, Arabic and French.
FM Radio.
Supports formats including mp3, mp4, midi and wav.
1.3-megapixel camera.
Up to 2GB microSD.
Available in night black, the watch phone is now available for the promo price of $395.