How much do you know about your skin? There are a huge number of skincare products for various types of skin available in the market. Hence, choosing the right product for the right skin is pretty essential to ensure the nourishing effect is being taken care of. If you are particular when it comes to skin care principles either for beauty or health reasons, check out what the Dutch electronics giant, Philips, via its new consumer product, Crystalize, bring to you.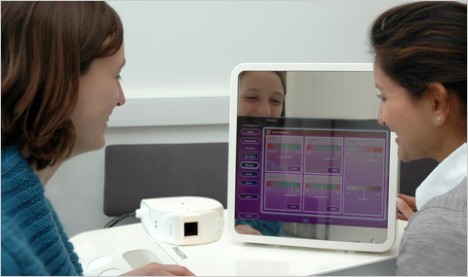 Philips Crystalize is an interesting skin service offered by the Dutch company. For $90, users can do a detailed and close-up skin scanning via Philips' unique and modified skin camera. With this technology, users can understand better the skin condition and view what the naked eye cannot see, e.g. wrinkles, lines, age spots, pigmentation, acne etc. The skin condition result will thence be analyzed by a special software for four conditions: skin type, redness, sun damage and smoothness. Based on the analysis, users can check through the Crystalize web site for a series of recommended products suitable for the skin. To maintain its impartiality, Philips does not offer any skin care products or receive any commission/remuneration for those the Dutch company recommends. The recommended products will include a wide range of variety and different price ranges.
Philips Crystalize offers more than just scanning and analysis. Users who join Philips Crystalize can also participate on the service's social networking group via the company site and share their skin care knowhow or problems with other members. At this juncture, Philips Crystalize is only available at Studio BeautyMix in the Fred Segal store in Santa Monica. More stores offering the service will be opened worldwide in near future.