To compress the file size, we normally use winzip or winrar to archive the file so that it will not consume a lot of your hard disk space. However, some time we just extract it to another folder to simplify the file access or execution. Unzipping archive files is an extra step and could be troublesome and that is how this free utility comes handy in. Named as Pismo File Mount, it can help you to skip the step of unzipping files by letting you mount the content of zip files to the file system directly.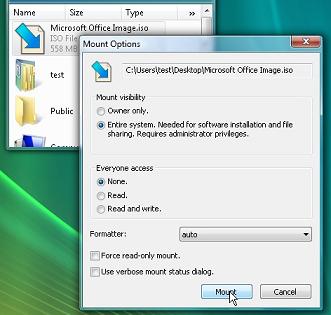 Pismo File Mount is a Windows application that is able to mount the contents of ZIP, ISO, CompactISO, Compact File Set and Private Folder files to the file system as virtual folder. Once the application is launched, it runs at the background and stays at system tray. To mount the file, just right click on ZIP/ISO/CompactISO/Compact File Set/Private Folder files, then choose Mount/Quick mount from the context menu. The difference between mount and quick mount is mount provides more options like mount visibility, access mode, map the virtual folder to drive and etc, whereas quick mount just mount the file to virtual folder without providing these options. Private Folder files is another great feature that worth to highlight here. It can be used to store confidential data files and application in an encrypted and compressed container file. When creating Private Folder, you are requested to provide password in order to generate the encryption key and this password will entered during mount time. Once the private folder is mounted, the protected contents become accessible through the file system. To keep it inaccessible , just unmount.
Pismo File Mount is compatible to run on Windows 2000/XP/Vista and Windows Server 2003/2008 and is absolutely free for download. It you feel it is useful, just click here to download the package.