PJ Pride – Pet Detective, is a hidden object puzzle game where player is to locate the find missing pets. The game centers PJ, the Pet Detective, to do the detective work, when a new mysterious cosmetic factory opening in town causing town's pets go missing, an hidden object mayhem. Everyone assumes the worst and it's gamer's job to right the wrongs and get the pets back to their frantic owners.

Gamers have to search and look carefully through 96 unique scenes jam-packed with the wildest objects, as one of the 90 missing pets may surprise the players by hiding in any new home. Players are to unlock the town's stores, homes, and even a tattoo parlor in 20 challenging levels of snooping. PJ Pride – Pet Detective features realistic sound effects, a captivating story, and gorgeous yet beautiful illustrations are sure to keep any gumshoe on the case.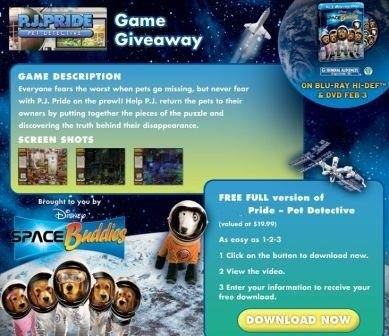 For gamer who loves to play PJ Pride – Pet Detective, GameHouse has offered PJ Pride – Pet Detective full version game as free download from anybody who watches the video commercial of Space Buddies for Disney. To view the promotional video, visit the following URL:
http://realarcadeextras.com/spacebuddies/ (offer expired)
Then, click on the DOWNLOAD NOW button. After watching the video, user will be automatically redirected to game order checkout page, with coupon code automatically applied to make the price at $0.00, hence does not require to pay any dollar. An account with GameHouse is required to get the free game download together with genuine registration unlock code and license name.
Alternatively, just visit the PJ Pride – Pet Detective page on GameHouse at http://www.gamehouse.com/download-games/pj-pride-pet-detective, and click on Buy Now button. Apply the following coupon code to make the game free:
PPPD0109