With Valentine's Day is just around the corner, Google has picked the right time to roll out of the lovely Google for Weddings. Google for Weddings comprises a suite of Google applications such as Google Docs, Google Sites, and Picasa Web Albums to help the lovebirds to plan and prepare the big day.



The wedding planning portal from Google consolidates the existing wedding templates in Google Docs to assist the getting married couples to track the budget, collect guests contacts, manage to-do list, all-in-one planner and etc. As these resources in Google Docs are hosted in the cloud, it simplifies the sharing and collaboration process. The access to update these resources is also doable from smartphones and other handheld devices. Furthermore, each templates contain useful tips provided from the celebrity event planner Michelle Rago and the popular wedding blog StyleMePretty.com for preparing the wedding party smoothly.
Google for Weddings consisting of 3 main sections: Sharing, Planning and Memories made the wedding planning tasks an organized and sweet process by utilizing the free tools from Google.
1. Sharing: Use the templates from Google Sites to create customized website to spread the love story and the event details.  The usual functions such as RSVP tracking, event map, calendar marking and photo albums can also be created without requiring technical skills.
Browse to http://www.google.com/weddings/sharing.html.
Select the preferred Sites themes and click "Preview this design"
Click "Use this design" button in the preview window if the theme match with your preference.
Enter the name of the site and preferred URL. Skip the theme choosing section as the system will proceed with the theme chosen earlier.
Use "More Options" settings for further configurations.
Enter CAPTCHA code and click Create Site.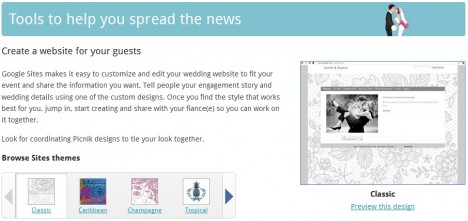 2. Planning: Google Docs templates to aid in the planning process.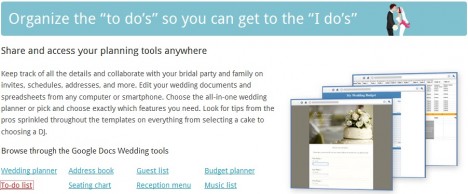 3. Memories: Utilize Picasa Web Albums and Picnik to create memorable photo albums and personalized announcements.
Impress your guests by adding perfect finishing touches to your sweet engagement and wedding photos with Picnik to create professional-quality effects. Various basic fixes, effects and photo styles are available for enhancing the colors of the photos, advancing focus, darken/lighten edges, and etc. The Fancy Collage templates from Picnik  allow the couples to create save the dates, table numbers and thank you cards.
Once all the photos are processed, the great photos can be shared to the friends and families by creating albums in Picasa Web Album.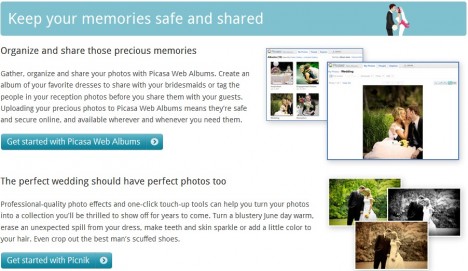 For the folks in US, Google is also running the Google Dream Wedding Sweepstakes offering cash prize of $25,000 and a dream wedding designed by Michelle Rago. Meanwhile, enjoy and all the best to all who are working on the biggest party of life!