Platinum Guard is a powerful utility software that helps to remove unwanted temporary files and unused junk files from system to ensure best PC performance. Platinum guard also can recover disk space and protect the privacy. Apart from that, Platinum Guard is also equipped with functions such as Mozilla Firefox SQLite database vacuuming, uncompressing of compressed old files and two-click intensive computer cleaner to deep clean-up and perform maintenance on the system.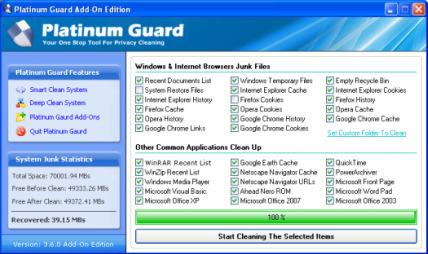 Features of Platinum Guard:
Improve computer's performance by getting rid of junk and temporary files that clog the system
Recover the valuable free hard disk space that otherwise would have occupied by junk and temporary files
Completely clear the tracks to render invisible recent activity
Clean browsing history to make sure privacy remains uncompromisable
Compatible with Internet Explorer, Firefox, Opera, and Google Chrome
Platinum Guard 4.0 normally costs around $14 for purchase. Platinum Guard is now available download free for a limited time only. As part of promotional offer, the developer Reohix is now allowing everybody to can get a free full version copy of Platinum Guard 4.0. The free Platinum Guard 4.0 giveaway is full commercial working version, with no registration required nor there is locked features.
To get the free full version of Platinum Guard 4.0, follow these steps:
Visit the promotional page at the following URL:
Then click "FREE Full Version Download Now" button to grab the free Platinum Guard 4.0.
Alternatively, users can also download the free full version of Platinum Guard 4.0 by using the direct download link below.
Platinum Guard 4.0: Platinum Guard .exe
Platinum Guard 4.0 supports Windows 95, Windows 98 / Me / NT, Windows 2000, Windows XP, Windows Vista, and Windows 7.