Remember the days of hiding in your bedroom to read Playboy magazines you got from your classmate? Remember the dry mouth and wet dreams? Those were the days! If you have grown up now (or perhaps not) and miss the physical pleasure derived from pictures of sexy girls and their big boobs, you shouldn't miss this great opportunity offered by the world's best-known men's magazine, Playboy. Together with its subsidiary, Bondi Digital Publishing, Microsoft is publishing 53 back issues of Playboy online and allowing their readers to re-savour memorable pictures from the magazine for free.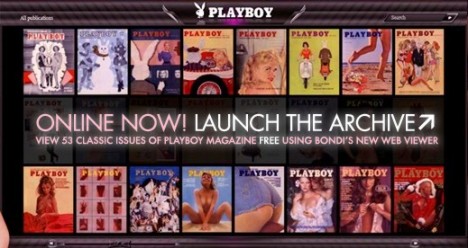 Playboy's loyal supporters can access these back issues via the PlayboyArchieve. The issues are from the year 1954 to 2007 and they are viewable via Microsoft's Silverlight Viewer. Users will be prompted to install Silverlight 2.0 prior to entering the site. Each issue online will appear as the actual print version, e.g. the layout, the pages, and even the advertisements. Readers can thence read the exact contents and view the adult materials from the site.
Hugh M. Hefner, Playboy founder, editor-in-chief and chief creative officer in his official statement said, "Playboy has an incredibly rich history and an intensely loyal readership. This is the perfect opportunity to offer them something they have always wanted and also a great way to allow a whole new generation to easily explore the magazine."
The effect via Silverlight viewer is satisfactory. The arrangement and organization of the issues is quite neat and easy to browse via its table of contents. However, the shortcoming of this player is it does not allow full-screen viewing. Readers need to access the contents page by page and zoom in for detailed reading.