The provider of the only interactive Indoor Smart Map directory of the interiors of shopping malls, level by level, for 100,000+ stores and guest services in hundreds of malls across North America, Point Inside, Inc. has launched its new Point Inside App for iPhone and iPod touch, which the company claims as the most comprehensive indoor navigation application that lets shoppers navigate their favorite shopping mall in the palm of their hand, aiming to enhance your shopping experience.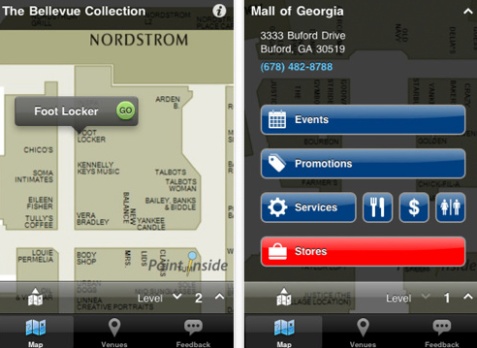 According to the company, Point Inside applications that able to function while there's no cellular or WiFi signal available allowing users to search shopping malls by events, promotions, services and stores, as well as navigated via the overview map, thanks to its top-line integration with Google Maps.
"People are constantly seeking directions inside shopping malls and their frustration amounts to something we call 'indoor navigation anxiety'," said Kevin Foreman, CEO of Point Inside, Inc. "We developed the Point Inside App to provide shoppers with a free mobile map that allows them to search for, and pinpoint, the exact location of not only their favorite stores, but restrooms, elevators, ATMs, and even kiosks. With Point Inside on your iPhone or iPod touch you can make paper maps and directories a thing of the past."
Point Inside App that also remembers your parked car location is currently available as a free download from the App Store on iPhone and iPod touch.
Watch the promo video of Point Inside App: