In addition to Crash Bandicoot Nitro Kart 3D and Raging Thunder, the game developer focusing on high-end mobile and handheld devices, Polarbit has launched another racing game for popular iPhone and iPod touch – Wave Blazer. It's the online speedboat racing game which features spectacular 3D graphics, fully stocked online multiplayer races and fine-tuned accelerometer controls.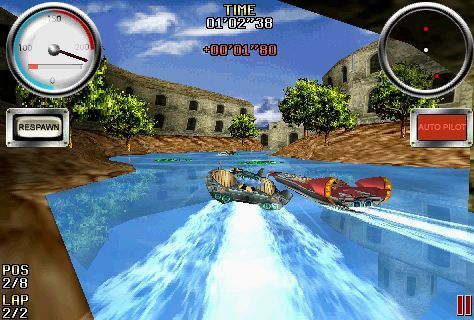 "Raging Thunder and Crash Nitro Kart have both been extremely well received by gamers and in reviews the world over. Looking to our previous games, we definitely have a lot to live up to in terms of both visual quality and gameplay value," said Janne Korpela, co-founder of Polarbit and lead developer of Wave Blazer. "We are confident that we have managed to up the ante an additional notch with Wave Blazer and that gamers will be just as exited about it as they have been about Raging Thunder and Crash Nitro Kart."
Highlights Of Wave Blazer:
Besides gut-wrenching gameplay, WaveBlazer features spectacular visual effects, unlike anything previously seen on a mobile device. Boats throw up a cascade of sparkling water as they slice through rippling waves reflecting majestic buildings and scenic surroundings. Tracks run through some truly inspiring and immersive environments; ranging from lush, green grasslands and inviting, ivory beaches to freezing wastes and murky grottos.
WaveBlazer features 4 different single player game modes, including championship, arcade, beat the clock as well as a fully stocked multiplayer versus-mode allowing you to face off against other players from all over the world. Because no matter how much fun outrunning the AI might be, nothing beats letting human opposition suck your wake as you leave them behind in a cloud of vapor and humiliation.
The Wave Blazer speedboat racing game is now available globally from Apple's AppStore.