Portal is a single-player first-person action and puzzle video game developed by Valve Corporation, which many Steam users familiar with as its demo, Portal: The First Slice with eleven test chambers (00-10), that available as free download initially for Nvidia GPU (graphics processing unit) owners and later for all Steam users.

Portal was released in a bundle package called The Orange Box for Windows, Xbox 360 and PS3 on 2007. The standalone retail version of the Portal game was available only since April 9, 2008 through Steam. Portal has been well received and liked by gamers and players due to its innovative and interesting game play, and has since won over 70 Game of the Year awards.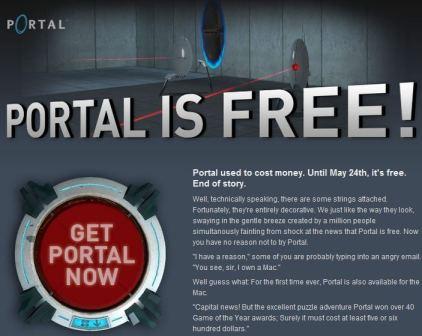 Though Portal: The First Slice does offer free game playing, it's after all still a demo, with limited chambers (levels). As part of Steam for Mac release promotion, where Portal is the first Source SDK engine-powered game available for both Windows and Mac OS X (Steam Play enabled), Portal is now available for free through Steam account until May 24th, 2010. The free Portal game is available for both Windows and Mac OS X systems.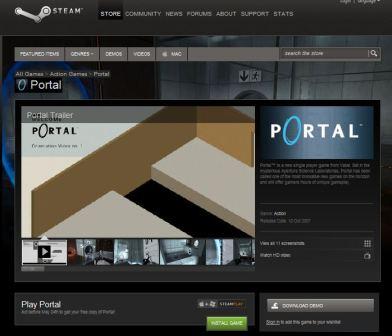 To get the free license, just visit the Portal Storefront from now until May 24th, 2010, and click on the Install Game button. User will need to login to Steam account or sign up for a new Steam account. Once the Portal is added to the Steam account, it will appear on the Steam client's Games Library for users to install onto PC or Mac. The download is about 1.4 GB, surge to almost 5 GB for Steam users who never install any Source engine powered game such as Half-Life 2 (HL2).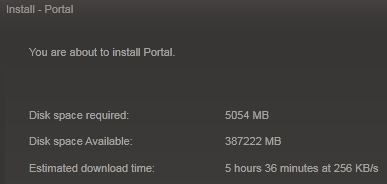 Tip 1: Even if you don't plan to play Portal now, do register the free license of Portal to your Steam account, as once "purchased" (with no cost), the Portal will be available forever. Portal also includes Source SDK, so the free Portal is an alternative to get the Source SDK which is required to play many free games on Steam platform.
Tip 2: Portal game is rather short, however, there are some community maps available to extend the gameplay, for example, WCS Maps Pack (wcs_portaltfv_mappack.rar) and Portal: Prelude (portal-prelude-setup-1.1.5.exe).